THIOPHILIC GEL or T-GEL*
for Ig (IgG, IgM, IgA, IgY purification)
Easy-to-use
Protein A and Protein G are widely used at present for the purification of IgG from various animal species. However, the use of Protein A and Protein G presents certain inconveniences:
- These proteins are expensive.
- Protein A and Protein G do generally not bind IgM.
- The elution at acid pH results in a partial denaturation of IgG.
- These proteins do not recognize IgG from all animal species such as dog, chicken...
AFFILAND has developed a Thiophilic gel (T-Gel) which allows the purification of immunoglobulins from all animal species under mild conditions (pH 8.0, low salt concentration, elution at physiological pH)**.


---
* Thiophilic gel or T-Gel has been named by Porath; FEB, 185, 306-310 (1985).
** Tran Quang Minh, lecture at University of Liège, Sart-Tilman 4000 Liège (BELGIUM): May 08, 1991; A. Dari, thèse de doctorat - University of Liège 1992.
---
CHARACTERISTICS OF THE THIOPHILIC GEL or T-GEL
This matrix (Agarose 4% cross-linked) contains thioether groups. The interactions of the immobilized thioether groups on the surface of the gel result in the formation of "pseudo S-S bridges" analogous to those present on the Fc fragment of immunoglobulins. These S-S structure interactions could explain the specific binding of immunoglobulins to the matrix.
The ligand does not show any interactions with serum proteins other than immunoglobulins (plus traces of alpha2-macroglobulin which are easily removed on PDC-Agarose). Of special interest is that no trace of serum albumin binding to the T-Gel can be detected.
The immunoglobulin capacity of the T-Gel is between 10 and 22 mg/ml gel. This capacity was observed for all animal species studied to date.
The coating of mouse monoclonal IgG purified by AFFILAND T-gel shows negligible non-specific binding in IRMA (immunoradiometric assay).
The gel can be easily regenerated.
The gel can be reused at least 10 times with no loss of binding capacity.
Stability of the gel: at 20°C for minimum a week; pH 2-10.
Shelf life of the gel: several years if stored at 4°C.
Storage: 4°C in PBS 50 mM pH 7.4; NaN3 0.02% (w/v).
IgG CAPACITY OF THE THIOPHILIC GEL or T-GEL
when using (NH4)2SO4 0.8M pH 8.0 (with NaOH 2M) as binding buffer.

Animal serum
(or other sources)
IgG capacity in
mg per ml of resin
%Purity
by SDS-PAGE
Calf, cow
Chicken & Turkey
Dog
Horse
Human
Goat
Guinea-pig
Monkey
Mouse monoclonal antibodies
Pig
Rabbit
Channichthys rhinoceratus
20
16
12
20
11
15
ND
12
6-10
14
13
N.D (IgM)
95
95
90
95
90
95
85
90
85-95
95
95
80
ORDERING INFORMATION
Product code
Product name
Package
*Price in EUR
T-56-4S
T-Gel on SepharoseTM CL-4B
25 ml of gel
245.00
50 ml of gel
409.00
100 ml of gel
682.00
500 ml of gel
2455.00
T-56-4FF
T-Gel on SepharoseTM 4 Fast Flow
25 ml of gel
320.00
50 ml of gel
532.00
100 ml of gel
886.00
500 ml of gel
3190.00
* All prices are FOB Liège.
Bulk quantities are available.
IMMUNOGLOBULIN PURIFICATION BY T-GEL
Instruction for use
Gel volume: 10 ml T-GEL.
Sample1: 50 ml serum from all animal species + binding buffer.
Binding buffer: (NH4)2SO4 0.9M pH 8.0 (with NaOH 1M): buffer A.
Flow rate: 40ml/cm2/hour for all operations.
Washing buffer: Buffer A.
Elution buffer2: Tris.HCl 20mM pH 7.4.
Regeneration buffer: NaOH 0.1M.
1 The sample can be also the ascites fluid or culture medium or egg yolk extract.
2 The elution can be also realized with a buffer of your choice.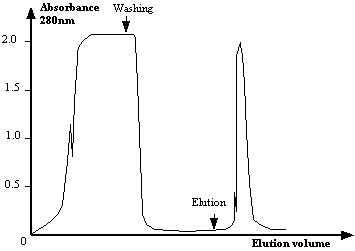 IgG, IgA and IgM are retained at Fc region by T-GEL.
IgG is more retained than IgA and IgM, by T-GEL.
Fab and Fab' are not retained by T-GEL3.
3 Allan Lihme and Peter M.H. Heegaard; Analytical Biochemistry, 192, 64-69 (1991).
APPLICATION
COATING ON SOLID MATRIX of MAb PURIFIED BY Affiland T-GEL
hCG IRMA using STAR NUNC coated tubes
MAb anti hCG to be coated was purified by the T-GEL.
Coating conditions:
- 500 µl per tube.
- Wash 3 times.
Pre-treatment of coated tubes: Dried at room temperature for 24 hours.
Series 1: With coated tubes stored at 4°C.
Series 2: With coated tubes incubated at 37°C for 7 days.
Testing conditions:
- 50 µl of known or unknown sample + 100 µl 125I MAb anti hCG.
- Shake 1 hour at room temperature.
- Wash 2 times.

hCG IRMA
(coated tubes stored at 4°C)
MAb coated concentration: 15 µg/ml
(7.5 µg per STAR NUNC tube)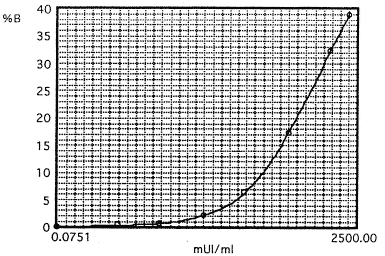 STD
Total
CPM
224207
Defined dose
% B/F
Calc. dose
% diff
1
2
3
4
5
6
7
8
197
858
1556
4997
14189
39002
72217
87288
0.07512
5.00000
15.00000
50.00000
150.00000
500.00000
1500.00000
2500.00000
0.09
0.38
0.69
2.23
6.33
17.40
32.21
38.93
0.07512
5.02335
14.99924
50.00920
149.95681
495.16919
1509.7629
2499.0245
0.00
0.47
-0.01
0.02
-0.03
-0.97
0.65
-0.04
hCG IRMA
(coated tubes stored at 4°C)
MAb coated concentration: 7.5 µg/ml
(3.75 µg per STAR NUNC tube)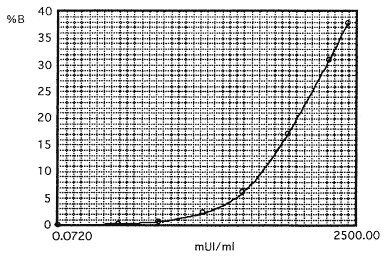 STD
Total
CPM
225762
Defined dose
% B/F
Calc. dose
% diff
1
2
3
4
5
6
7
8
128
684
1556
5112
14012
38716
70115
85330
0.07199
5.00000
15.00000
50.00000
150.00000
500.00000
1500.00000
2500.00000
0.06
0.30
0.69
2.26
6.21
17.15
31.06
37.80
0.07199
5.00131
14.99972
50.56020
149.43322
500.93387
1519.0643
2522.0949
0.00
0.03
0.00
1.12
-0.38
0.19
1.27
0.88
hCG IRMA
(coated tubes incubed at 37°C for 7 days)
MAb coated concentration: 15 µg/ml
(7.5 µg per STAR NUNC tube)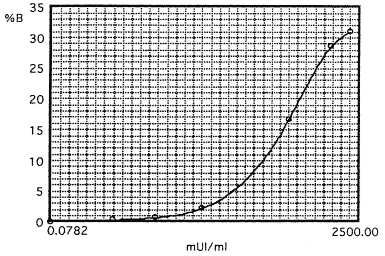 STD
Total
CPM
208247
Defined dose
% B/F
Calc. dose
% diff
1
2
3
4
5
6
7
147
696
1429
4513
34496
59376
64442
0.07824
5.00000
15.00000
50.00000
500.00000
1500.00000
2500.00000
0.07
0.33
0.69
2.17
16.57
28.51
30.95
0.07824
5.00001
15.00014
50.00000
499.03947
1551.0698
2132.2401
0.00
0.00
0.00
0.00
-0.19
3.40
-14.71
hCG IRMA
(coated tubes incubed at 37°C for 7 days)
MAb coated concentration: 7.5 µg/ml
(3.75 µg per STAR NUNC tube)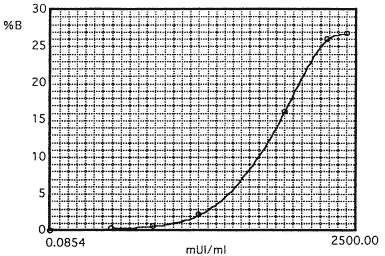 STD
Total
CPM
208694
Defined dose
% B/F
Calc. dose
% diff
1
2
3
4
5
6
7
132
607
1364
4516
33649
54038
55805
0.08538
5.00000
15.00000
50.00000
500.00000
1500.00000
2500.00000
0.07
0.29
0.65
2.16
16.12
25.89
26.74
0.08538
5.00005
15.00132
49.99697
499.46383
1576.2160
2486.5585
0.00
0.00
0.01
-0.01
-0.11
5.08
-0.54