FIBRONECTINS
MW 440,000 daltons
References:

Identification of an Antilaminin-1 scFv That Preferentially Homes to Vascular Solid Tumors, Cancer Biotherapy & Radiopharmaceuticals Oct 2005, Vol. 20, No. 5 : 524 -533.
Airway epithelium-derived transforming growth factor-ß is a regulator of fibroblast proliferation in both fibrotic and normal subjects, Clinical & Experimental Allergy, Volume 38 Issue 8, Pages 1309 – 1317, 2008.
Biomarkers for ragwort poisoning in horses: identification of protein targets, BMC Veterinary Research 2008, 4:30 doi:10.1186/1746-6148-4-30.
CHARACTERISTICS
Source: Citrated plasma.
Purification method: Affinity purified.
Purity: 97% SDS-PAGE in the presence of beta-mercaptoethanol.
Biological properties: Two sub-units linked to each-other by the S-S bridges.
Cell adhesion promoting activity of human fibronectin (hFn)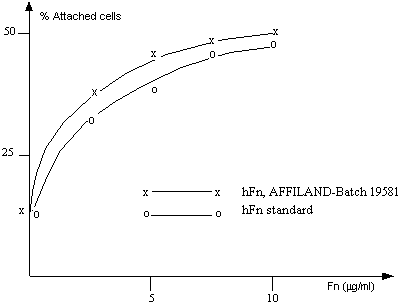 Cell adhesion of collagen attachment deficient cells (rat lung cancer cells) in 30 min. on Collagen type I polymer. Correction of the cell adhesion was done by suppliementing the medium with increasing doses of human fibronectin.
ORDERING INFORMATION
Complete technical data sheet provided with the order.
Product code
Product name
Package
*Price in EUR
Afd-6b
Bovine fibronectin
1 mg
50.00
10 mg
250.00
Afd-6h
Human fibronectin
1 mg
70.00
10 mg
320.00
Afd-6m
Mouse fibronectin
1 mg
250.00
Afd-6r
Rat fibronectin
1 mg
175.00
Afd-6rb
Rabbit fibronectin
1 mg
93.00
* All prices are FOB Liège.
Bulk quantities are available.
| | |
| --- | --- |
| Hepatitis test: Negative | Aids antibody test: Negative |